Author:
Tracy Clark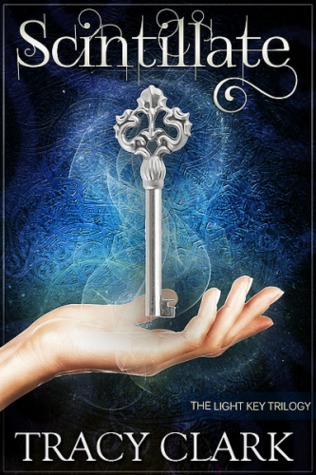 Publisher:
Entangled Teen
Publication Date: 4th February 2014
Source:
ebook (given by publisher through YA Bound Book Tours and Netgalley)
Rate:
Summary:
Cora Sandoval's mother disappeared when she was five and they were living in Ireland. Since then, her dad has been more than overprotective and Cora is beginning to chafe under his confines. But even more troubling is the colorful light she suddenly sees around people. Everyone, that is, except herself—instead, she glows a brilliant, sparkling silver.
As she realizes the danger associated with these strange auras, Cora is inexplicably drawn to Finn, a gorgeous Irish exchange student who makes her feel safe. Their attraction is instant, magnetic, and primal—but her father disapproves, and Finn's mother orders him home to Ireland upon hearing he's fallen in love. After a fight with her father, Cora flees to Ireland, both to follow Finn and to look for her missing mother.
There she meets another silver-haloed person and discovers the meaning of her newfound powers and their role in a conspiracy spanning centuries—one that could change mankind forever…and end her life. - Goodreads
Review:
*This book was given to me in exchange for an honest review.*
Cora Sandoval lives with her dad and her stepmother in California but she has a mystery behind her normal appearance. Her mother disappeared in Ireland when she was just a toddler and that caused her father to become overprotective and controlling.
One day Cora starts to see lights around people and instead of glowing "rainbow coloured" tones like the others she shines silver.
She slowly learns the dangers of having a silver aura as she falls in love with Finn, an Irish exchange student who makes her feel safer.
When Finn's mom calls him back to Ireland and Cora's heart breaks and her world shatters. After having a fight with her father she flees to Ireland in order to find her lost mother.
In there she meets another silver-haloed person and starts to discover herself and her kind.
This book is very original and the setting and the plot literally takes your breath away. In a world that very well built you get not only lost in the details but also in the marvellous plot.
The author was able to join very different aspects into a beautiful story that's a great beginning for a very promising series.
I don't remember when was the last time I read a book that was this complex and beautiful! The setting is excellent for the story and it helps to add a certain dept to the, already profound, characters.
This is a perfect book for fall time! My advice is to read it while snuggling in a warm blanket and with your favourite hot drink in hand.
I also advise it to all fantasy and myth lovers, such as myself! You will "devour" this work of art.