Current reads, there is something about them that sends chills down my spine, in a bittersweet way. I love to read, if I didn't I certainly wouldn't be writing a blog about books and reading experiences, but sometimes I find myself juggling between various books at the same time.
Like many literature lovers I know, besides my leisure reading, I also have to have time to read my university assigned reads. Sometimes the mandatory reads are something that I would already read on a leisure setting but still, the kind of reading and analysis the courses require can sometimes make the act of reading a daunting task.
I come here today to share with you a list of the books that I am currently reading! I hope you find some that you like and you can count on some of them being reviewed here on the blog.
Seventeen-year-old Maggie Ellmes is dogged by a case of chronic bad luck. She figures that's just her lot in life—that is, until the psychic at Blackheath's annual carnival reveals that Maggie's problems are caused by more than just ordinary misfortune; she's actually been cursed.
Desperate to shake the hex, Maggie has no choice but to seek out the help of Joel Tomlins, a rebellious classmate who's descended from Blackheath's most powerful line of witches. After breaking all of his coven's conventions to help her, Joel discovers that the curse isn't as bad as Maggie fears. In fact, it's much, much worse.
Shakespeare's intertwined love polygons begin to get complicated from the start--Demetrius and Lysander both want Hermia but she only has eyes for Lysander. Bad news is, Hermia's father wants Demetrius for a son-in-law. On the outside is Helena, whose unreturned love burns hot for Demetrius. Hermia and Lysander plan to flee from the city under cover of darkness but are pursued by an enraged Demetrius (who is himself pursued by an enraptured Helena). In the forest, unbeknownst to the mortals, Oberon and Titania (King and Queen of the faeries) are having a spat over a servant boy. The plot twists up when Oberon's head mischief-maker, Puck, runs loose with a flower which causes people to fall in love with the first thing they see upon waking. Throw in a group of labourers preparing a play for the Duke's wedding (one of whom is given a donkey's head and Titania for a lover by Puck) and the complications become fantastically funny.
Literature's grandest evocation of life's journey, at once an ageless human story and an individual test of moral endurance, Homer's ancient Greek epic The Odyssey is translated by Robert Fagles with an introduction and notes by Bernard Knox in Penguin Classics.When Robert Fagles' translation of The Iliad was published in 1990, critics and scholars alike hailed it as a masterpiece. Here, one of the great modern translators presents us with The Odyssey, Homer's best-loved poem, recounting Odysseus' wanderings after the Trojan War. With wit and wile, the 'man of twists and turns' meets the challenges of the sea-god Poseidon, and monsters ranging from the many-headed Scylla to the cannibalistic Cyclops Polyphemus - only to return after twenty years to a home besieged by his wife Penelope's suitors. In the myths and legends retold in this immortal poem, Fagles has captured the energy of Homer's original in a bold, contemporary idiom.Seven greek cities claim the honour of being the birthplace of Homer (c. 8th-7th century BC), the poet to whom the composition of the Iliad and Odyssey are attributed. The Iliad is the oldest surviving work of Western literature, but the identity - or even the existence - of Homer himself is a complete mystery, with no reliable biographical information having survived.
Have you ever wished you could receive a little guidance from your favorite book boyfriend? Ever dreamed of being the Chosen One in a YA novel? Want to know all the secrets of surviving the dreaded plot twist?
Or maybe you're just really confused about what "opal-tinted, luminous cerulean orbs" actually are?
Well, popular Twitter personality @broodingYAhero is here to help as he tackles the final frontier in his media dominance: writing a book. Join Broody McHottiepants as he attempts to pen Brooding YA Hero: Becoming a Main Character (Almost) as Awesome as Me, a "self-help" guide (with activities--you always need activities) that lovingly pokes fun at the YA tropes that we roll our eyes at, but secretly love.
As his nefarious ex, Blondie DeMeani, attempts to thwart him at every turn, Broody overcomes to detail, among other topics, how to choose your genre, how to keep your love interest engaged (while maintaining lead character status), his secret formula for guaranteed love triangle success, and how to make sure you secure that sequel, all while keeping his hair perfectly coiffed and never breaking a sweat.



WELCOME BACK TO HOLLOW HILLS
The spellbinding continuation of the best-selling YA fantasy series, The Marked. Discover why readers are calling this series completely engrossing and downright addicting!
The steep descent into Hell is always paved with good intentions.
My name is Jemma Blackburn, and I'm a Slayer. Finding out I wasn't human was only the beginning of my problems. My best-friend, Taylor, is still missing, and so is the Immortal Amulet, and it's my job alone to get them both back. I don't know who I can trust, and I'm still not sure I'm cut out for any of this, but I'm determined to figure it all out, or die trying.
As if that wasn't bad enough, there's a new enemy in town and they've come bearing gifts—an ancient prophesy that is going to blur the very lines between good and evil. And, apparently, my blood is tied to the center of it. I don't have all the answers yet, but I'm getting closer and closer to discovering the truth. The truth about my bloodlines, and about who I really am.
And, believe me when I say, it's going to change everything.
Harry Potter è un predestinato: ha una cicatrice a forma di saetta sulla fronte e provoca strani fenomeni, come quello di farsi ricrescere in una notte i capelli inesorabilemte tagliati dai perfidi zii. Ma solo in occasione del suo undicesimo compleanno gli si rivelano la sua natura e il suo destino, e il mondo misterioso cui di diritto appartiene. Un mondo dove regna la magia; un universo popolato da gufi portalettere, scope volanti, caramelle al gusto di cavolini di Bruxelles e ritratti che scappano...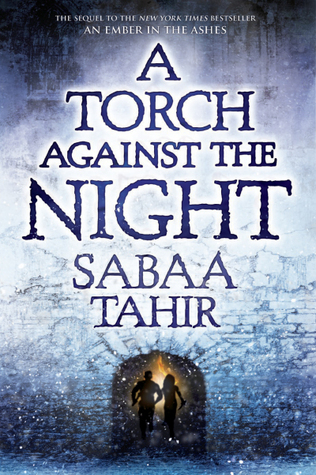 A Torch Against the Night (An Ember in the Ashes #2) by Sabaa Tahir
Elias and Laia are running for their lives. After the events of the Fourth Trial, Martial soldiers hunt the two fugitives as they flee the city of Serra and undertake a perilous journey through the heart of the Empire.
Laia is determined to break into Kauf—the Empire's most secure and dangerous prison—to save her brother, who is the key to the Scholars' survival. And Elias is determined to help Laia succeed, even if it means giving up his last chance at freedom.
But dark forces, human and otherworldly, work against Laia and Elias. The pair must fight every step of the way to outsmart their enemies: the bloodthirsty Emperor Marcus, the merciless Commandant, the sadistic Warden of Kauf, and, most heartbreaking of all, Helene—Elias's former friend and the Empire's newest Blood Shrike.
Bound to Marcus's will, Helene faces a torturous mission of her own—one that might destroy her: find the traitor Elias Veturius and the Scholar slave who helped him escape…and kill them both.
The Oresteia (Ορέστεια #1-3) by Aeschylus
In the Oresteia—the only trilogy in Greek drama which survives from antiquity—Aeschylus took as his subject the bloody chain of murder and revenge within the royal family of Argos.
Moving from darkness to light, from rage to self-governance, from primitive ritual to civilized institution, their spirit of struggle and regeneration becomes an everlasting song of celebration.
The Aeneid by Virgil
Robert Fagles's award-winning translations of Homer's Iliad and Odyssey have sold more than a million copies and become classics in their own right. With this modern verse translation of Virgil's Aeneid, Fagles completes the classic triptych at the heart of Western civilization. Retaining all of the gravitas and humanity of the original, yet vibrant and contemporary, this seminal literary achievement of the ancient world is an unsparing portrait of a man caught between love, duty, and fate.