Author:
Jen Printy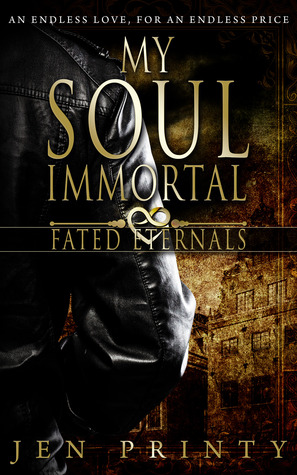 Publisher:
Red Adept Publishing
Publication Date: February 15th 2014
Source:
ebook (given by author and publisher)
Rate:

Summary:
An endless love, for an endless price.
Jack's immortality is exposed when he prevents a liquor store heist, forcing him to flee to protect his secret—a secret not even he understands. But when he meets Leah Winters—a mirror image of his decades-lost love, Lydia—his very soul is laid bare. He begins to question his sanity. Is she real, and if so, what does that mean for Jack and his secret?
Jack's not the only mystery man in town. A stranger named Artagan hints at knowledge Jack is desperate to possess. But can he trust Artagan, or does the dark newcomer harbor deadly secrets of his own?
As Jack's bond with Leah grows, so does the danger to her life. Jack must discover just how much he is willing to risk in order to save the woman he already lost once. - Goodreads
Review:
*This book was given to me in exchange for an honest review.*
Jack is an immortal who has lost the love of his life. Leah is an artist who happens to look just like Jack's lost love.
When Jack meets Leah he starts thinking that he's losing his mind and things only get worse when they actually fall in love and Artagan, a stranger that appears into their lives and shows knowledge of Jack's secret.
As Jack and Leah's relationship grows the danger rises. Will Jack tell Leah his secret? How will they survive?
This book has a very interesting premise and you can almost immediately guess what the story is going to be about.
Combining some aspects of supernatural and myths with real-life Printy was able to create another reality within our own. The research for this is amazing and it presents correct facts and locations mixed with fictional elements that are very compatible and the ending and the plot are quite amazing.
The only thing I think could be better are the characters, I think they need a little more depth but whit not so much drama.
Overall I think it's a good introduction book for a series and I think (and hope) things only get better as the series goes.
If you like cosy paranormal romances with real-life aspects then this book is for you.