*This review contains spoilers for the first book.*
Author:
Tracy Clark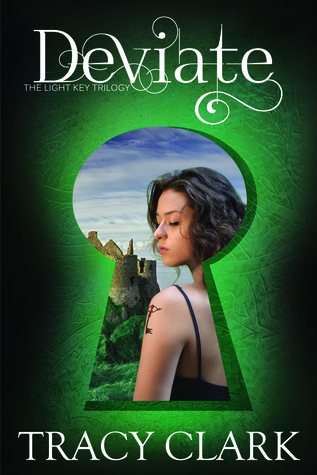 Publisher:
Entangled Teen
Publication Date: March 3rd 2015
Source:
ebook (given by publisher through YA Bound Book Tours and Netgalley)
Rate:
Summary:
Tormented after a daring escape, Cora Sandoval must find a way to stop the Arrazi from murdering innocent people and from violating, using, and killing the Scintilla for their powers. She must also accept one bitter betrayal: Finn Doyle—the Irish boy who has both a piece of Cora's heart and soul—is Arrazi...
On the verge of extinction and sought by those who would either consume or destroy them, Cora and the remaining Scintilla survivors must solve the mystery of The Light Key. If they fail, the truth will stay buried forever and mankind will pay the ultimate price.
No longer will she hide.
No longer will her loved ones be hunted.
And she will have her vengeance...even if she shatters her heart in the process.- Goodreads
Review:
*This book was given to me in exchange for an honest review.*
In the continuation of her amazing adventure, Cora Sandoval is tormented and makes it her mission to stop the evil Arrazi from murdering innocent people and using and killing the Scintilla for their own benefit.
The problem is that the boy who has her heart is Arrazi and she can't forget about Finn nor Finn can forget his feelings for Cora.
Cora and the surviving Scintilla must unite themselves in order to solve the mystery of The Light Key and maybe put an end to their persecution. Their failure will result in persecution and death as well as the declining of mankind.
The first thing I want to add about this book is about the whole series. I entered Cora's world thinking this would be a mystical mystery that has all to do with folklore and love and may I tell you that I couldn't be more wrong.
These books do have folklore and romance but they are so much more! They have science fiction, history, family values and world culture as well as many influences from many religions.
In this book, I was astonished by how much the characters evolved between the beginning of the story itself and how deeply they have changed. These are not ordinary people they all have so many layers to them that you can't even imagine what they're going to do next (spotlight for Gráinne).
I have to add that this book will surprise you and to expect being surprised because of what I like to call the "holy" plot-twists.
I advise this book to everyone! If you thought you liked the first instalment of this series you will certainly love this one but prepare your heart and keep tissues with you at all times!