* Contains Explicit Sexual Content *
Author:
Kylie Scott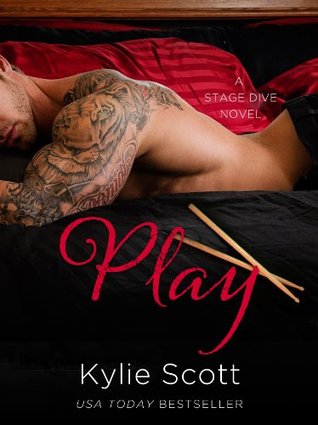 Publisher:
St. Martin's Griffin
Publication Date: March 25th 2014
Source:
ebook (given by Netgalley)
Rate:

Summary:
Mal Ericson, drummer for the world famous rock band Stage Dive, needs to clean up his image fast—at least for a little while. Having a good girl on his arm should do the job just fine. Mal doesn't plan on this temporary fix becoming permanent, but he didn't count on finding the one right girl.
Anne Rollins never thought she'd ever meet the rock god who plastered her teenage bedroom walls—especially not under these circumstances. Anne has money problems. Big ones. But being paid to play the pretend girlfriend to a wild life-of-the-party drummer couldn't end well. No matter how hot he is. Or could it?
Review:
Mal is the drummer of the world sensation rock band Stage Dive and, due to his misbehaviour, needs to clean up his public image fast, even if it's only for a little while. The perfect solution: having a girlfriend. Not a real one, of course, just someone to stand by his side for some time and then swiftly disappear. What he didn't expect was to find the "one".
Anne has been obsessed with Stage Dive since she was just a teenager, especially the sexy drummer Mal, whose poster was on her bedroom wall back then, what she didn't expect was to meet him like this! She needs money, fast, and Mal proposes a solution for that problem if she can be his fake girlfriend for some time.
Something is changing between them... what's going to happen?
I have to thank God for putting this author on this Earth! I usually don't like steamy romantic novels but Scott's touch makes them really really enjoyable!
Mal is one of the most peculiar characters I've ever read about and the way he acts has me cracking up all the time, though he also has a secret ( just a tiny bit) serious side to his personality. He may be good looking (and a bit crazy), but he worries about the ones he loves and never betrays anyone who is dear to his heart.
Anne is the "girl next door" kind of girl and the way she stays down to Earth through all the crazy and marvellous events in the story makes her even better. She had a chance to meet her teenage rockstar crush and did not get over her head about it, she saw him like a person.
Plotwise this is a serious rocker kind of book and I loved how it grabbed all the characters from the previous book and the way they were included in the story but it's also possible to read it as a stand-alone book.
I would certainly advise against reading this book if you're not comfortable with very explicit sexual content, but if you are and you "
wanna be a rock star
" you should give it a try, you'll love it!