* Contains Explicit Sexual Content *
Author:
Kylie Scott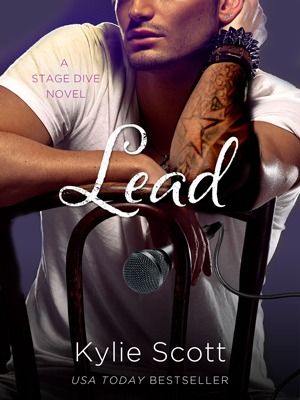 Publisher:
St. Martin's Griffin
Publication Date: November 25th 2014
Source:
ebook (given by Netgalley)
Rate:

Summary:
As the lead singer of Stage Dive, Jimmy is used to getting whatever he wants, whenever he wants it, whether it's booze, drugs, or women. However, when a PR disaster serves as a wake-up call about his life and lands him in rehab, he finds himself with Lena, a new assistant to keep him out of trouble.
Lena's not willing to take any crap from the sexy rocker and is determined to keep their relationship completely professional, despite their sizzling chemistry. But when Jimmy pushes her too far and Lena leaves, he realizes that he may just have lost the best thing that ever happened to him.
Review:
*The publisher provided this book in exchange for an honest review through NetGalley.*
Jimmy Ferris is the lead singer of the world sensation band
Stage Dive
and he has many problems with booze, drugs and women, being used to have anything he wants, when he wants it and how he wants it. When a PR disaster lands him on rehab he finally wakes up and realises the mess his life really is.
In order not to have a fallout and get back into trouble, his record company hires Lena, a young woman who will not take any crap from him and whose job is to jeep him away from all the harmful and addictive things in his life.
The chemistry between Lena and Jimmy is undeniable but they fight against it since Lena wants to keep her job and knows their relationship would have no future in his rock star world.
Reading this book was like travelling through every tough girl's life when it finally starts to settle down when she finally meets the man she wants. The only problem is that she can't have that man and she's professional enough to go away.
The characters in this book are really inspiring and make you see how even the most beautiful lives face hardness sometimes and how appearances usually don't correspond to the truth. The story itself is very complete and wonderful, it makes you feel right and it goes from rock bottom to rainbows and unicorns, showing the many shades of a real relationship and how it grows and changes.
This is a perfect book to read when you need a little pick-me-up and some joy brought into your life. I wouldn't advise it to people who don't feel comfortable with explicit sex scenes! Give it a try, you'll really really enjoy it!