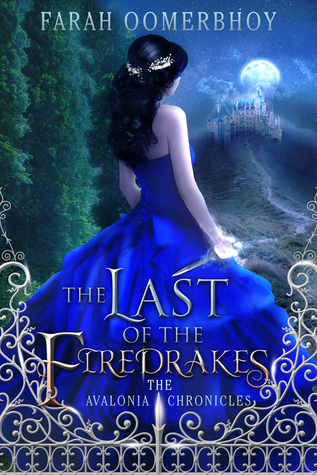 Author:
Farah Oomerbhoy
Publisher:
Wise Ink Creative Publishing
Publication Date: 15th August 2015
Source:
Galley (from Netgalley)
Rate:
Summary:
16-year-old Aurora Darlington is an orphan. Mistreated by her adopted family and bullied at school, she dreams of running away and being free. But when she is kidnapped and dragged through a portal into a magical world, suddenly her old life doesn't seem so bad.
Avalonia is a dangerous land ruled by powerful mages and a cruel, selfish queen who will do anything to control all seven kingdoms—including killing anyone who stands in her way. Thrust headlong into this new, magical world, Aurora's arrival sets plans in motion that threaten to destroy all she holds dear.
With the help of a young fae, a magical pegasus, and a handsome mage, Aurora journeys across Avalonia to learn the truth about her past and unleash the power within herself. Kingdoms collide as a complicated web of political intrigue and ancient magic lead Aurora to unravel a shocking secret that will change her life forever. (via Goodreads)
Review:
Aurora thinks she's just another normal orphan living with her hateful family and bullied at school until one day she's knidnapped and taken through a magical portal into a fairy tail word and finding out it's even worse than her old life.
She soon discovers she's in Avalonia, a magical land where those who possess magic reign and whose queen is a vile human being that will take down everything that stands between her and her goals and thirst for power.
Aurora soon finds that the key to her past lies deep in Avalonia and she will need the help of the friends she made along the way to find out who she is and to take her place in the world again.
While reading this book you'll notice two things: one is that Avalonia is like if you grabbed all your fairy tale "land" ideas and had smashed them all into only one and the other thing is that you'll never want to put this book down!
The storyline and the characthers in this book are so well developed that you'll really feel transported to Avalonia and you'll fell that you're Aurora and that you're doing the things she's doing and that, my friends, is one of the greatest things an author can do, in my humble opinion.
Everything in this story is well thought and beautifully acomplished! There are details that you'll find in one part of the story that will only be used a little ahead and you're only given a little bit of information at a time so when the main characther wonders what is it that the others are hiding you feel exactly what she feels!
I loved the way that the author used references from Arthurian Legends, fairy legends and even, I think, of real life and putted it all in one concise story, that way you feel a little familiar with the story but even then the story is completely different from what you'll expect.
If you love everything that has to do with Disney or love history, adventure, magic, love honor and friendship you should really read this book since it will satisfy your thirst for good stories.
I'm really anticipating the next book!
You'll know why I put this here when you read the book.( Photo credit: Tumblr)