Author:
Rebecca Ross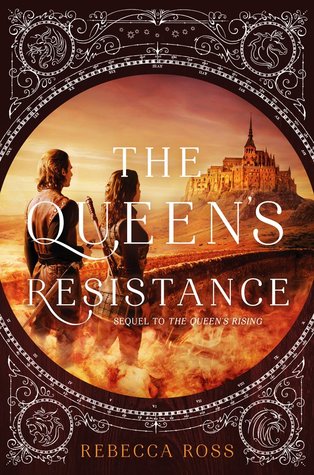 Publisher:
Harper Collins Children's Books
Publication Date: March 5th 2019
Source:
ebook (given via Edelweiss)
Rate:
Summary:
Finally, Brienna is a mistress of knowledge and is settling into her role as the daughter of Davin MacQuinn, a disgraced lord who returned to Maevana to reclaim his house. Though she'd just survived a revolution, one that will finally return a queen to the throne, she faces another difficult challenge. She must prove herself trustworthy to the MacQuinns. But as Queen Isolde Kavanagh's closest confidant, she'll have to balance serving her father's house as well as her country. And then there's Cartier, a wholly separate but desirable factor in her new life.
Aodhan Morgane, formerly known as Cartier Évariste, is adjusting to the stark contrast between his pre-rebellion life in Valenia as a master of knowledge and his current one as the lord of a fallen house. During his castle's restoration, he discovers a ten-year-old boy named Tomas, whose past and parentage are a complete mystery. So when Cartier's former pupil Brienna is as taken with Tomas as he is, he lets his mind wander—what if he doesn't have to raise him or his house alone?
As the Lannon trial rapidly approaches, Brienna and Cartier must put their feelings aside to concentrate on forging alliances, executing justice, and ensuring that no one interferes with the queen's coronation. But resistance is rumbling among the old regime's supporters, who are desperate to find a weakness in the rebels' forces. And nothing makes a person more vulnerable than deep-seated love.
Review:
*Disclaimer: This book was given to me by the publisher for review via Edelweiss; all thoughts and opinions are my own.*
Brienna has finally become a mistress of knowledge and is trying to fit in her new family and court with the MacQuinns but it is not easy to fit in when everyone hates you. Surviving a rebellion is starting to seem easy when compared with the challenges of living in this new society after everyone discovered who her biological father was. However, Brienna is the new Queen's, Isolde Kavanagh, closest confidant and friend, so she must learn to succeed in the gut-wrenching world of politics in an unstable nation that has no respect for her. She must assert herself through might, not violence, and show everyone what she is capable of.
As unexpected things start to happen in Maevana, both political and personal wise, Brienna has to learn how to deal with Cartier, now known as Aodhan. Relationships are never easy, but they become especially harder when you are trying to establish a new governmental regimen. Contrary forces start to rise and Brienna has to join forces with her friends to fight against those of the old regimen who believe they can overthrow the new Queen and put the cruel old king back in the throne. Justice can be cruel and Brienna needs to forge new alliances and learn to play the game or she may die.
This sequel to
The Queen's Rising
picks up immediately after the end of the previous book: there is almost no gap in the narration between the two. In a way, it feels like you are reading the second part of the same book. Now that the reader has been introduced to the wondrous and very complex world of Maevana, it is possible to observe the inner workings of the kingdom, to get to know its people and more of its traditions. This a nation of warrior women and it is beautiful to see it unfold in this novel's pages.
This book's complex plot not only discusses the post-rebellion politics of establishing Queen Isolde's reign but also speaks to all the societal levels found in Maevana. The reader gets to know how the people feel, how the servants and the guard feel, how the new queen feels, no one escapes this scope. Besides the political and knowing how the characters feel, there are very important themes discussed throughout this story. Some of these themes are: balanced romantic relationships, being accepted for who you are and not what people think of you, trusting yourself, building trust, building your own family, amongst others. Some very poignant points about family and friendship are made in the story.
Throughout this book, the reader gets to see the characters evolve throughout the story. After a first book (in the series) that seemed to wrap all of the action, the reader gets a gut-punch and bucket of cold water spilt on top: nothing that seemed simple actually is. This is definitely one of the kinds of plots I like to call "onion plot" because of all of its layers and underlying complexity. Besides watching amazing personal progress from everyone - and also the Maevan society as a whole - you get to see Brienna and Aodhan's (formerly known as Cartier) relationship flourish, as well as her friendship with her new family and also her new people and servants.
This is definitely a very underhyped and underappreciated YA (Young Adult) and Fantasy book. The world building and character construction always take me away and, if you think the first book was enough, think again!