Author:
Rebecca Ross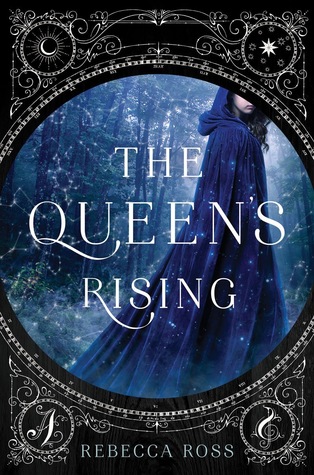 Publisher:
HarperTeen
Publication Date: February 6th 2018
Source:
ebook (purchased)
Rate:

Summary:
When her seventeenth summer solstice arrives, Brienna desires only two things: to master her passion and to be chosen by a patron.
Growing up in the southern Kingdom of Valenia at the renowned Magnalia House should have prepared her for such a life. While some are born with an innate talent for one of the five passions—art, music, dramatics, wit, and knowledge—Brienna struggled to find hers until she belatedly chose to study knowledge. However, despite all her preparations, Brienna's greatest fear comes true—the solstice does not go according to plan and she is left without a patron.
Months later, her life takes an unexpected turn when a disgraced lord offers her patronage. Suspicious of his intent, and with no other choices, she accepts. But there is much more to his story, and Brienna soon discovers that he has sought her out for his own vengeful gain. For there is a dangerous plot being planned to overthrow the king of Maevana—the archrival kingdom of Valenia—and restore the rightful queen, and her magic, to the northern throne. And others are involved—some closer to Brienna than she realizes.
With war brewing between the two lands, Brienna must choose whose side she will remain loyal to—passion or blood. Because a queen is destined to rise and lead the battle to reclaim the crown. The ultimate decision Brienna must determine is: Who will be that queen?
Review:
Brienna has only ever known life at the orphanage in the Kingdom of Valenia, that is, until, at eight years old, her grandfather takes her to Magnalia House, an estate where she shall study in order to become a passion. She has to choose a passion from the possible five - music, dramatics, wit, knowledge and art - to study and pursue for the following years, even though she is not particularly drawn to any of them. She tried to various passions until at last, in her final three years, she decided to dedicate herself to knowledge.
Cartier was the one who accepted the challenge of teaching knowledge to Brienna in such a short time. He is also the one to whom she can talk about the other part of her, the part that belongs to Maevana, the Quee'ns realm. With a long-dead Valenian mother and an unknown Maevan father, Brienna is a mystery to herself and her grandfather will not tell her who her father actually is.
When the time comes for her studies at Magnalia to end, she fears that she won't passion in the solstice, what ends up happening, to her discontent. The mistress invites her to stay with her in Magnalia for the summer, a time in which her life takes a very unexpected turn. She ends up finding out she may be the key to reinstate a Queen to the Maevan throne and gets a patron who wants to make that into a reality.
Getting rid of the tyrannical King of Maevana will prove to be a challenge and Brienna soon finds herself in great danger. Will she be able to put a Queen on the throne once more?
The first thing I will say about this book is that this is the kind of book whose pages fly by you and that surprises you when you get to the end. Also, it is a highly addictive and immersive story. Right from the beginning, you start to get a feel of the characters' psyche and what are the things they love and believe in. Through the process of slowly building up the story, the author was able to create didactic multi-layered characters that make the reader love them, hate them and judge them as it is needed.
This story is, at its core, a mix between a political strife and self-discovery. Brienna discovers herself at the same time she unravels the complex political dynamics of Maevana. Her strife to find out more about this kingdom causes her to discover more about herself than she was probably expecting. With finding out more about herself she begins to make complex judgements of her relationships with other characters within the story. I am not going to delve more into this matter, since it would unveil too much of the beautiful mysteries at play within the narrative.
Every relationship Brienna establishes is important and we get a multidimensional perspective of affective relationships through her character: the filial, the love (passion), the friendship, the fielty, the sisterhood, and others. The narrative presents relevant teaching not only to Brienna but also to the reader. Every inter-character relationship has a specific role to play out in the whole of the plot. These relationships also help to build up each character's sense of self in relation to others, besides showing the reader how they act around others.
Overall, this is a very enjoyable read! I highly recommend it. It depicts many values that are sometimes lacking in our present day reality without shying away from the darkness that is present in every society. This story stands out amongst those of the same style because it presents a girl who wants to put another person in the place of power. She is not the lost magical queen but she wants to put that queen on the throne, even though her herself is not magical or wants to be queen. Brienna fights for a better world, as we all should.