Good morning! I hope this post finds you well and happy.
Today I come to you with an update on what I'm currently reading and what I'm hoping to read. I believe we all know the struggle of having a humongous TBR pile and no money to buy all the beautiful (inside and out) books we want to read.
One book I finally started reading last week was
A Torch Against the Night
by Sabaa Tahir, the second instalment of
An Ember in the Ashes
and I have to tell you that even tough I'm making slow progress I'm loving this book! The story is quite engaging and there are so many things that are intriguing me as of how they will be solved.
Laia is a slave. Elias is a soldier. Neither is free.
Under the Martial Empire, defiance is met with death. Those who do not vow their blood and bodies to the Emperor risk the execution of their loved ones and the destruction of all they hold dear.
It is in this brutal world, inspired by ancient Rome, that Laia lives with her grandparents and older brother. The family ekes out an existence in the Empire's impoverished backstreets. They do not challenge the Empire. They've seen what happens to those who do.
But when Laia's brother is arrested for treason, Laia is forced to make a decision. In exchange for help from rebels who promise to rescue her brother, she will risk her life to spy for them from within the Empire's greatest military academy.
There, Laia meets Elias, the school's finest soldier—and secretly, its most unwilling. Elias wants only to be free of the tyranny he's being trained to enforce. He and Laia will soon realise that their destinies are intertwined—and that their choices will change the fate of the Empire itself. - Goodreads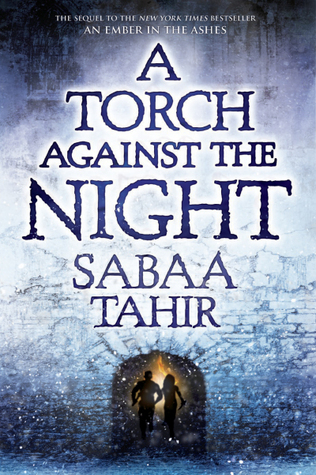 Elias and Laia are running for their lives. After the events of the Fourth Trial, Martial soldiers hunt the two fugitives as they flee the city of Serra and undertake a perilous journey through the heart of the Empire.

Laia is determined to break into Kauf—the Empire's most secure and dangerous prison—to save her brother, who is the key to the Scholars' survival. And Elias is determined to help Laia succeed, even if it means giving up his last chance at freedom.

But dark forces, human and otherworldly, work against Laia and Elias. The pair must fight every step of the way to outsmart their enemies: the bloodthirsty Emperor Marcus, the merciless Commandant, the sadistic Warden of Kauf, and, most heartbreaking of all, Helene—Elias's former friend and the Empire's newest Blood Shrike.

Bound to Marcus's will, Helene faces a torturous mission of her own—one that might destroy her: find the traitor Elias Veturius and the Scholar slave who helped him escape…and kill them both. -

Goodreads
In the midst of all my university assignments, I was finally able to start reading two books for review, which I'm very excited to do! To be honest my NetGalley shelf is piling up and if I want to request new releases and different books to review for you I have to read and review the ones on my kindle. You can see some of the books I currently have to review and others on my posts about
My Kindle Shelves
.
The book I'm hoping to write a review about (hopefully) until the end of this week is
Unclaimed
by Laurie Wetzel. It is a great book with supernatural elements and it is much better than I hoped. I love when books surprise me in the best way possible!
Abandoned by her birth parents and ignored by her adoptive family, Maddy Page believes she is unlovable. She only allows herself to dream of falling in love. That changes when she meets MJ; handsome and kind, MJ penetrates Maddy's defences. Maddy soon finds herself confiding in MJ like she has with no one else, revealing secrets even her closest friends don't know. He makes her feel safe—a feeling she's never experienced except in her dreams.
When Maddy witnesses MJ disappear and reappear in thin air, she realises she might have been wrong about him. He could be dangerous—maybe even a killer. Determined to uncover the truth of who—or what—MJ is, Maddy ignores her instinct to run. But she soon realises that getting close to MJ could cost more than a broken heart—it could cost Maddy her soul. - Goodreads
I'm currently working towards posting more frequently and posting better content. To be honest when I don't have good content to post I believe it is best not to post than to give you bad content that won't have any quality and that won't be of your liking. I hope you like this post and if you have any requests for me to review or post ideas feel free to leave them down in the comments.
Love, Ana