Author:
Christopher Mannino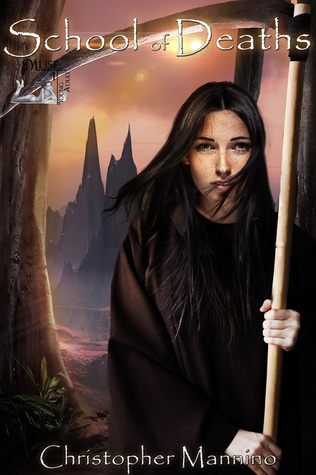 Publisher:
Muse it Up Publishing
Publication Date: May 2nd 2014
Source:
ebook (given by Netgalley)
Rate:

Summary:
Thrust into a world of men, can a timid girl find bravery as the first female Death?
Thirteen-year-old Suzie Sarnio always believed the Grim Reaper was a fairy tale image of a skeleton with a scythe. Now, forced to enter the College of Deaths, she finds herself training to bring souls from the Living World to the Hereafter. The task is demanding enough, but as the only female in the all-male College, she quickly becomes a target. Attacked by both classmates and strangers, Suzie is alone in a world where even her teachers want her to fail.
Scythes hungry for souls, Deaths who subjugate a race of mysterious magicians, and echoes of an ancient war with Dragons.
As her year progresses, Suzie suspects her presence isn't an accident. She uncovers a plot to overthrow the World of Deaths. Now she must also discover the reason she's been brought there: the first female Death in a million years.
Review:
*The publisher provided this book in exchange for an honest review through NetGalley.*
Suzie Sarnio is just a thirteen-year-old girl that wants to pass school and go out with her friends but when she starts losing weight like crazy her parents worry and she only wants to know what's going on with her body. That is until the day a strange man knocks on her door and takes her to the College of Deaths, on the Hereafter, a world where assigned men are trained to become Deaths.
She feels alone, being the only girl in Hereafter and she feels even worse when her classmates start to rebel against her but, what she doesn't know, is that big turmoil lies ahead.
Besides learning how to wield a scythe and reaping souls, Suzie ends up by discovering a plot to overthrow the World of Deaths and she decides to unmask the criminals and even find out why is she the first female Death in over a million years.
The thing that I find most impressive about this book is not the characters or the plot, but the values that are present throughout the whole story itself. It talks a lot about human values and equality in a sublime way that it's not very noticeable but very effective.
Suzie is a very realistic character and it's a great role model for younger girls that are battling through bullying, loneliness and loss. She's not like the main characters in some books, where the girls are shockingly gorgeous and smart and good at anything on the first time. She struggles and she battles to get what she wants, if that's not resilience then I don't know what it is.
The plot itself is very compelling, having some parts where what's going to happen is very obvious, but the overall beauty and complexity of it turns this book into a great read.
The world is very mysterious and I really wanted to know more about it, I think it's very different from other worlds when was the last time you saw dragons and deaths living on the same fantasy world?
This is a great book for a motivational and light read, a book you can read and you can offer to younger people because they'll appreciate it. If you're a fan of Grim Reaper stories and strong female characters with a hint of romance then you should give it a try!
chillybell.tumblr.com