Hi guys! Today it's tag day! I was tagged by Miranda @
Miranda's Book Blog
and I'm so excited to be doing this! Thank you Miranda for tagging me!
This tag was created by Sam from
Novel and Nonsense
.
Crunchy Leaves!
The world is full of colors. Choose a book that has reds, oranges or yellows on the cover.
"Minha Querida Inês" by Margarida Rebelo Pinto
The last days of the greatest Portuguese romantic heroine. A story that will make you fall in love, but also cry. You'll never see another love like this.
"Minha Querida Inês" (My Dear Inês) it's the outcome of a deep historic investigation mixed with Margarida Rebelo Pinto's passion for strong women, whose presence is noted in almost all of her work. The Inês protraited in this book is a brave and passionate and is not afraid to talk about her intimate life and her thoughts on love, family, God and the world.
Inês dies for love. If she wanted to steal the kingdom or she was just a victim of political unrest, we'll never know. The Inês that's in the book it's a whole woman, flesh and bone, with a head, a heart and a stomach, who feels and thinks ahead of her times and, for that, wise and timeless.
I chose this book because it's one of my favorites! I'm sorry if the synopsis isn't very good but I had to translate it from Portuguese. I know the cover seems to be missing the reds but you must notice the bodice of her dress and, in my copy, the title is in metallic red.
Cozy Jumper! It's finally cold enough to don warm, cozy clothing. What book gives you the warm fuzzies?
Lick (Stage Dive #1)by Kylie Scott
Evelyn Thomas's plans for celebrating her twenty-first birthday in Las Vegas were big. Huge. But she sure never meant to wake up on the bathroom floor with a hangover to rival the black plague, a very attractive half-naked tattooed man in her room, and a diamond on her finger large enough to scare King Kong. Now if she could just remember how it all happened.

In Kylie Scott's Lick, one thing is certain: being married to one of the hottest rock stars on the planet is sure to be a wild ride.
This book gives me all that warm and cozy love feelings that I love! It even has lots of sexy moments! And do you know what's even better? I plan on re-reading it soon, in order to review it.
If you're okay whith sex scenes in books then I really advise you to read this fantastic book!
Fall Storm!
The wind is howling and the rain is pounding. Choose your favorite book or genre that you like to read on a stormy day.
I love to read fantasy and YA when the rain is pounding on my window! Here are a few favourites!
Abandon by Meg Cabot
Though she tries returning to the life she knew before the accident, Pierce can't help but feel at once a part of this world, and apart from it. Yet she's never alone . . . because someone is always watching her. Escape from the realm of the dead is impossible when someone there wants you back.
But now she's moved to a new town. Maybe at her new school, she can start fresh. Maybe she can stop feeling so afraid.
Only she can't. Because even here, he finds her. That's how desperately he wants her back. She knows he's no guardian angel, and his dark world isn't exactly heaven, yet she can't stay away . . . especially since he always appears when she least expects it, but exactly when she needs him most.
But if she lets herself fall any further, she may just find herself back in the one place she most fears: the Underworld.
Sweet Evil by Wendy Higgins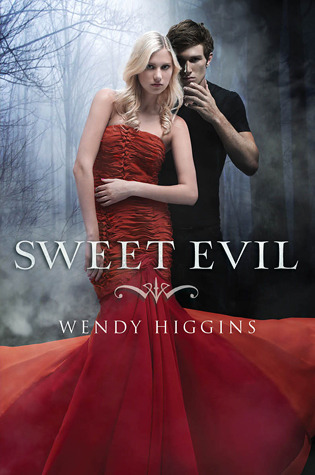 Embrace the Forbidden

What if there were teens whose lives literally depended on being bad influences?This is the reality for sons and daughters of fallen angels.Tenderhearted Southern girl Anna Whitt was born with the sixth sense to see and feel emotions of other people. She's aware of a struggle within herself, an inexplicable pull toward danger, but it isn't until she turns sixteen and meets the alluring Kaidan Rowe that she discovers her terrifying heritage and her willpower is put to the test. He's the boy your daddy warned you about. If only someone had warned Anna. Forced to face her destiny, will Anna embrace her halo or her horns?
Wicked by Jennifer L. Armentrout



Twenty-two year old Ivy Morgan isn't your average college student. She, and others like her, know humans aren't the only thing trolling the French Quarter for fun… and for food. Her duty to the Order is her life. After all, four years ago, she lost everything at the hands of the creatures she'd sworn to hunt, tearing her world and her heart apart.
Ren Owens is the last person Ivy expected to enter her rigidly controlled life. He's six feet and three inches of temptation and swoon-inducing charm. With forest-green eyes and a smile that's surely left a stream of broken hearts in its wake, he has an uncanny, almost unnatural ability to make her yearn for everything he has to offer. But letting him in is as dangerous as hunting the cold-blooded killers stalking the streets. Losing the boy she loved once before had nearly destroyed her, but the sparking tension that grows between them becomes impossible for Ivy to deny. Deep down, she wants… she needs more than what her duty demands of her, what her past has shaped for her.
But as Ivy grows closer to Ren, she realizes she's not the only one carrying secrets that could shatter the frail bond between them. There's something he's not telling her, and one thing is for certain. She's no longer sure what is more dangerous to her—the ancient beings threatening to take over the town or the man demanding to lay claim to her heart and her soul.
Cool Crisp Air.
Who's the coolest character you'd want to trade places with?
That would be Clary Fray, on The Mortal Instruments Series by Cassandra Clare!
I love how fearless and strong she is and I would love to be an artist that battles demons. In my mind I'll always be a Shadowhunter!
Hot Apple Cider.
What under-hyped book do you want to see become the next biggest, hottest thing?
Under Different Stars by Amy A. Bartol
Kricket Hollowell is normally not one to wish upon stars; she believes they're rarely in her favor. Well versed at dodging caseworkers from Chicago's foster care system, the past few years on her own have made Kricket an expert at the art of survival and blending in. With her 18th birthday fast approaching, she dreams of the day when she can stop running and find what her heart needs most: a home.
Trey Allairis hates Earth and doubts that anyone from his world can thrive here. What he's learning of Kricket and her existence away from her true home only confirms his theory. But, when he and Kricket lie together under the stars of Ethar, counting them all may be easier than letting her go.
Kyon Ensin's secrets number the stars; he knows more about Kricket's gifts than anyone and plans to possess her because of them. He also knows she's more valuable than any fire in the night sky. He'll move the heavens and align them all in order to make her his own.
When everything in their world can be broken, will Kricket rely upon love to save her under different stars?
You want to know what I love so much about this book series?
CLICK HERE
to view my very entusiastic review of this amazing book!
Coats, Scarves and Mittens.
The weather has turned cold and it's time to cover up. What's the most embarrassing book cover you own that you like to keep hidden in public?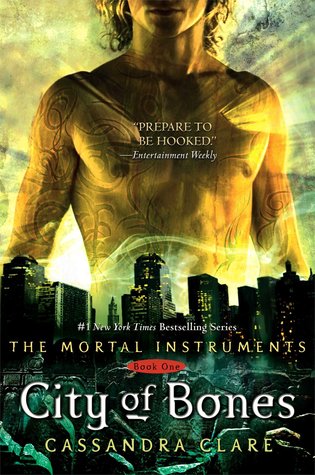 When fifteen-year-old Clary Fray heads out to the Pandemonium Club in New York City, she hardly expects to witness a murder― much less a murder committed by three teenagers covered with strange tattoos and brandishing bizarre weapons. Then the body disappears into thin air. It's hard to call the police when the murderers are invisible to everyone else and when there is nothing―not even a smear of blood―to show that a boy has died. Or was he a boy?

This is Clary's first meeting with the Shadowhunters, warriors dedicated to ridding the earth of demons. It's also her first encounter with Jace, a Shadowhunter who looks a little like an angel and acts a lot like a jerk. Within twenty-four hours Clary is pulled into Jace's world with a vengeance, when her mother disappears and Clary herself is attacked by a demon. But why would demons be interested in ordinary mundanes like Clary and her mother? And how did Clary suddenly get the Sight? The Shadowhunters would like to know...

Exotic and gritty, exhilarating and utterly gripping, Cassandra Clare's ferociously entertaining fantasy takes readers on a wild ride that they will never want to end.
Sooooo.... I know that, for you, this cover might not be embarrassing and awkward to read in public but you have to consider that, in my country, this is not a very known book series so when my friends saw this cover they asked me "What is that book about? Sex? Is that Erotica?". All of that because there is a shirtless guy on the cover.
CLICK HERE
to read my review of this book.
Pumpkin Spiced Latte.
What's your favorite Fall Time comfort food or drink?
My favourite Fall Time confort food are chestnuts and the drink is a mix of Peppermint and Green Tea.
Warm, Cozy Bonfire.
Spread the cozy warmth! Who do you tag?
Selina @ http://dearbookgeeks.blogspot.co.uk/