1. Inconceivable! by Tegan Wren
A popular, young royal couple can't produce an heir? INCONCEIVABLE!
When Ozarks native Hatty goes "whole hog" during karaoke, she catches the eye of Prince John. He isn't what she expects the heir to a small European nation to be: he's affable, witty, and isn't put off by her tell-it-like-it-is demeanor. Their flirtation should be short lived, but a force stronger than fate—Hatty's newspaper editor—assigns her to cover the royals. After spending time together, she and John soon begin dating, and Hatty finds herself making headlines instead of writing them.
But challenges loom that are even more complicated than figuring out how to mesh Hatty's journalism career with life at Belvoir Palace. Hatty and John soon find themselves embroiled in an unusual sex scandal: they can't produce an heir. Tabloids dub Hatty a "Barren-ess," and the royals become irate. Hatty politely tells them to shove it. But beneath her confident exterior, she struggles to cope with a heartbreak that invades her most intimate moments with John. Pressured to choose between invasive medical procedures and abandoning John's claim to the throne, the couple feels trapped until a trip to Ethiopia shows them happy endings sometimes arrive long after saying "I do.
2. Soundless by Richelle Mead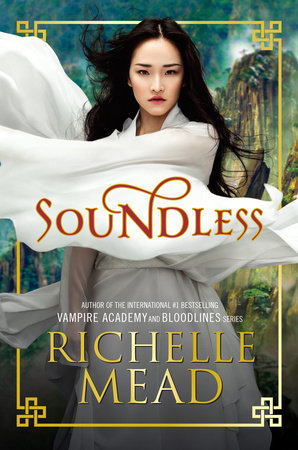 From Richelle Mead, the #1 internationally bestselling author of Vampire Academy and Bloodlines, comes a breathtaking new fantasy steeped in Chinese folklore.

For as long as Fei can remember, there has been no sound in her village, where rocky terrain and frequent avalanches prevent residents from self-sustaining. Fei and her people are at the mercy of a zipline that carries food up the treacherous cliffs from Beiguo, a mysterious faraway kingdom.

When villagers begin to lose their sight, deliveries from the zipline shrink and many go hungry. Fei's home, the people she loves, and her entire existence is plunged into crisis, under threat of darkness and starvation.

But soon Fei is awoken in the night by a searing noise, and sound becomes her weapon.

Richelle Mead takes readers on a triumphant journey from the peak of Fei's jagged mountain village to the valley of Beiugo, where a startling truth and an unlikely romance will change her life forever...
3. Velvet Undercover by Teri Brown
Samantha Donaldson's family has always done its duty for the British Crown. In the midst of World War I, seventeen-year-old Sam follows in their footsteps, serving her country from the homefront as a Girl Guide and messenger for the intelligence organization MI5. After her father disappears on a diplomatic mission, she continues their studies of languages, high-level mathematics, and complex puzzles and codes, hoping to make him proud.
When Sam is asked to join the famed women's spy group La Dame Blanche she's torn—this could be the adventure she's dreamed of, but how can she abandon her mother, who has already lost a husband to the war? But when her handlers reveal shocking news, Sam realizes there's no way she can refuse the exciting and dangerous opportunity.
Her acceptance leads her straight into the heart of enemy territory on a mission to extract the most valuable British spy embedded in Germany, known to the members of LDB only as Velvet. Deep undercover within the court of Kaiser Wilhelm II, Samantha must navigate the labyrinthine palace and its many glamorous—and secretive—residents to complete her assignment. To make matters worse she finds herself forming a forbidden attraction to the enemy-a dangerously handsome German guard. In a place where personal politics are treacherously entangled in wartime policy, can Samantha discover the truth and find Velvet before it's too late…for them both?
From author Teri Brown comes the thrilling story of one girl's journey into a deadly world of spycraft and betrayal—with unforgettable consequences.
4. Magnus Chase by Rick Riordan
Magnus Chase has always been a troubled kid. Since his mother's mysterious death, he's lived alone on the streets of Boston, surviving by his wits, keeping one step ahead of the police and the truant officers.
One day, he's tracked down by an uncle he barely knows-a man his mother claimed was dangerous. Uncle Randolph tells him an impossible secret: Magnus is the son of a Norse god.
The Viking myths are true. The gods of Asgard are preparing for war. Trolls, giants and worse monsters are stirring for doomsday. To prevent Ragnarok, Magnus must search the Nine Worlds for a weapon that has been lost for thousands of years.
When an attack by fire giants forces him to choose between his own safety and the lives of hundreds of innocents, Magnus makes a fatal decision.
Sometimes, the only way to start a new life is to die . . .
5. Mirrorred by Alex Flinn
Mirror, mirror in my hand . . .
Beauty is the key to everything. At least, that's how it seems to Violet—ugly, bullied, and lonely. To be beautiful, in her eyes, is to have power and love. And when Kendra, the witch, teaches Violet how to use magic, she may finally get what she wants.
For Celine, beautiful since birth, her looks have been a hindrance. She discovers that beauty is also a threat—especially to her stepmother, Violet, who doesn't want anyone sharing the attention she worked so hard to get and who will do anything to be the fairest of them all.
But beauty isn't only skin deep and love isn't based on looks alone. And though Violet and Celine may seem to be completely opposite, their lives are almost . . . mirrore
6. The Immortal Heights by Sherry Thomas
In a pursuit that has spanned continents, Iolanthe, Titus, and their friends have always managed to remain one step ahead of the forces of Atlantis. But now the Bane, the monstrous tyrant who bestrides the entire mage world, has issued his ultimatum: Titus must hand over Iolanthe, or watch as his entire realm is destroyed in a deadly rampage. Running out of time and options, Iolanthe and Titus must act decisively to deliver a final blow to the Bane, ending his reign of terror for good.
However, getting to the Bane means accomplishing the impossible—finding a way to infiltrate his crypt in the deepest recesses of the most ferociously guarded fortress in Atlantis. And everything is only made more difficult when new prophecies come to light, foretelling a doomed effort. . . .
Iolanthe and Titus will put their love and their lives on the line. But will it be enough?
With The Immortal Heights, Sherry Thomas brings the acclaimed Elemental Trilogy to its breathtaking conclusion.