Author:
Leigh Bardugo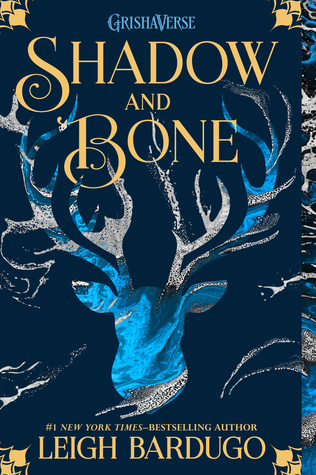 Publisher:
Square Fish
Publication Date: June 2017 (first published June 5th 2012)
Source:
physical copy (purchased)
Rate:

Summary:
Surrounded by enemies, the once-great nation of Ravka has been torn in two by the Shadow Fold, a swath of near impenetrable darkness crawling with monsters who feast on human flesh. Now its fate may rest on the shoulders of one lonely refugee.
Alina Starkov has never been good at anything. But when her regiment is attacked on the Fold and her best friend is brutally injured, Alina reveals a dormant power that saves his life—a power that could be the key to setting her war-ravaged country free. Wrenched from everything she knows, Alina is whisked away to the royal court to be trained as a member of the Grisha, the magical elite led by the mysterious Darkling.
Yet nothing in this lavish world is what it seems. With darkness looming and an entire kingdom depending on her untamed power, Alina will have to confront the secrets of the Grisha . . . and the secrets of her heart.




Review:
Alina is an orphan. The only family she has ever known is Mal, an orphan who grew up with her in the Duke's Estate turned orphanage. Together they have weathered all storms in their lives and, when the time came, they enlisted in the first army together. Alina became a cartographer's apprentice and Mal became a tracker, sometimes they were apart but people couldn't really separate them.
Ravka, the kingdom where they live, is divided by the Unsea, also called the Fold, a sea of darkness where man-eating monsters thrive. Part of the First and Second Armies' job is to maintain security for those who wish to cross in order to transport produce and material goods. While the First Army is formed by normal people, the Second Army is composed of an elite of people doted with magical abilities, the Grisha.
While on a mission within the Fold, Alina ends up saving Mal's life. While doing it something happens, suddenly her own fellow soldiers don't trust her anymore. She ends up being taken by the Darkling, the second in command to the King, and shoved into a world she doesn't even understand.
This is a book that mixes fantasy with science fiction, an aspect that seems new, even a little revolutionary, to me. The Grisha's magic is ruled by the laws of physics as are their apparent magic tricks.
Right from the start, you're able to identify Ravka with Imperial Russia and, because of that, all of the book's imaginary becomes clearer and easier to interpret. The snowy ambience becomes an easy fact to accept, the uniforms and other kinds of clothing also become more logic.
The story develops at a steady pace, grabbing the readers' attention while avoiding the famous sin of "info-dumping". Even though this world is tethered to the real world it manages to be unique and engrossing without being too complex and becoming a nuisance to the reader. The writing is clear and fluid, which helps with the pace of the story itself.
Alina, the main character is clearly the typical main character in a series: she has a lot to develop while also being easily relatable and with her own shortcomings to be surpassed. I love the way the author uses this character to introduce topics such as self-love and confidence, which are well represented and addressed throughout the whole book.
Mal seems a little dry to me, he wasn't portrayed in a very good light by his own actions within this book, so I know that I may grow to love him in future instalments but right now he isn't my favourite. Genya is fun and light and is a nice relief in some hefty parts of the story, she is not comical relief but she takes the strain of seriousness a little bit away from the reader.
The Darkling is what I would call a polarizing character. I am not going to talk too much about him in order to avoid spoilers but I have to admit that he is one of my favourite characters. He has this aura of mystery and darkness surrounding him and, personally, that deeply appeals to me and my soul. I am very curious to see what is made of him in future instalments.
I advise everyone to read this book! I can state with full confidence that this is one of the best fantasy books that I have ever read and that I am certain many (many) people will find this story appealing.