Author:
Kristin Cashore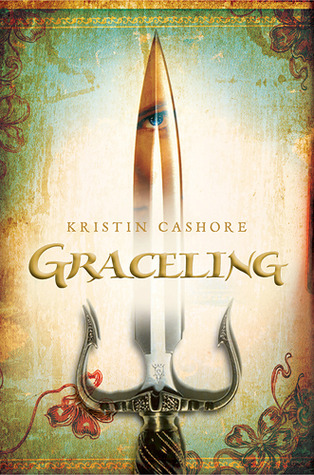 Publisher:
Harcourt
Publication Date: October 1st, 2008
Source:
Paperback
Rate:

Summary:
Katsa has been able to kill a man with her bare hands since she was eight—she's a Graceling, one of the rare people in her land born with an extreme skill. As niece of the king, she should be able to live a life of privilege, but Graced as she is with killing, she is forced to work as the king's thug.

She never expects to fall in love with beautiful Prince Po.

She never expects to learn the truth behind her Grace—or the terrible secret that lies hidden far away . . . a secret that could destroy all seven kingdoms with words alone.

With elegant, evocative prose and a cast of unforgettable characters, debut author Kristin Cashore creates a mesmerizing world, a death-defying adventure, and a heart-racing romance that will consume you, hold you captive, and leave you wanting more.
Review:
Katsa has been Graced with a deadly skill, she has the talent to kill, what makes her the perfect assassin and punisher for her uncle. She is a Graceling and therefore she is bound to serve the king and do whatever he demands of her. She hates killing but she has to keep doing it over and over again.
One day, while on a mysterious secret rescue mission she notices a handsome and mysterious warrior that might ruin her plans. She decides to trust him, only to find out that he is Prince Po. The Council's power is spreading but danger lurks in the shadows and what seems to be good is proven untrustworthy.
Fighting her inner demons proves to be as hard as changing the unfair world she lives in. Katsa and Po must find strength in each other and overcome the adversities that appear in their path to learn how Po's grandfather's disappearance is related to the kings' plans. In the midst of their troubles, they end up departing on a journey of which they will not come back the same.
The main feeling that I have after reading this book is pure amazement. I have to admit that this book has one of the best plots and some of the best characters that I have ever crossed paths with. You know that you are reading a great story when you are able to get really engrossed in the story and the characters start to feel like real people, even though they live in a different world.
This story touched some points that are, in my opinion, very important. If I had to choose I would highlight female empowerment and the representation of a main male character and love interest as something that is not invincible. When peril starts to ruin their options of escape, Po trusts Katsa's abilities of survival and her own inner strength. The whole plot does not depend on Po saving the day.
There is also the aspect of self-discovery and the slow, painful path to self-knowledge. Even ourselves are sometimes unable to recognize our true essence and our whole capabilities. Usually, we are the ones that are imposing limitations on our own lives and actions! This book is a very beautiful representation of that and also values like honour, family, loyalty, justice and others.
Overall, I thoroughly enjoyed this book and greatly recommend it to everyone that enjoys fantasy and self-made women! Even if you do not, you should still give it a try.