Author:
S. Jae-Jones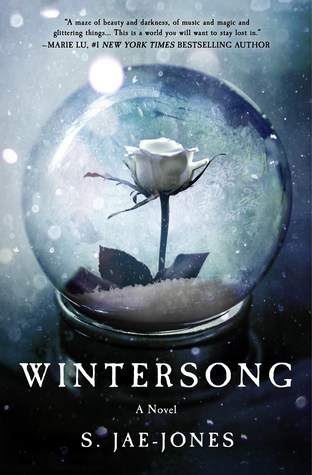 Publisher:
Thomas Dunne Books
Publication Date: February 7th 2017
Source:
ebook (bought)
Rate:

Summary:
Beware the goblin men and the wares they sell.
All her life, nineteen-year-old Liesl has heard tales of the beautiful, mysterious Goblin King. He is the Lord of Mischief, the Ruler Underground, and the muse around which her music is composed. Yet, as Liesl helps shoulder the burden of running her family's inn, her dreams of composition and childish fancies about the Goblin King must be set aside in favor of more practical concerns.
But when her sister Käthe is taken by the goblins, Liesl journeys to their realm to rescue her sister and return her to the world above. The Goblin King agrees to let Käthe go—for a price. The life of a maiden must be given to the land, in accordance with the old laws. A life for a life, he says. Without sacrifice, nothing good can grow. Without death, there can be no rebirth. In exchange for her sister's freedom, Liesl offers her hand in marriage to the Goblin King. He accepts.
Down in the Underground, Liesl discovers that the Goblin King still inspires her—musically, physically, emotionally. Yet even as her talent blossoms, Liesl's life is slowly fading away, the price she paid for becoming the Goblin King's bride. As the two of them grow closer, they must learn just what it is they are each willing to sacrifice: her life, her music, or the end of the world.
Review:
Liesl has always heard about the Goblin King, a mysterious and powerful figure in her local tales. He is the Lord of Mischief, the Ruler of the Underground and, in an odd way, her muse. She is a very good composer, even if she has to compose in secret, away from her father's gaze.
She has to help run her family's inn and support the dreams her parents have for her brother, a proficient violinist. Her life has not been easy and she has had to leave her dreams and imagination of the Goblin King, dismissed as childish fantasies.
When her sister Käthe is taken by the goblins, Liesl makes a deal in order to enter the kingdom and hopefully rescue her sister. The Goblin agrees to let her sister go in exchange for something. The life of a maiden must be given to the land, according to the old laws. Without sacrifice, nothing good can grow on Earth, so Liesl offers her hand in marriage to the Goblin King in order to save Käthe. He accepts.
In the underground, Liesl discovers that the Goblin King is still a big part of her inspiration in every way possible: he is in her music, in her dreams, in her thoughts... He talent blossoms but her life starts to drain, her price to pay. The two grow closer each day and must learn what they are willing to sacrifice to save the world...
I must start with a warning: this book is an absolutely beautiful tearjerker. Saying this is not meant to lead you away from this book but, instead, to let you know that your emotions will come to the surface and you will love it.
Never had I ever read a book so melodic and beautiful as this one. It entices you, it takes you into this world and it gains substance. One sign a book is great is that you get lost in the words and the story and you have to force yourself to let it go so you can sleep.
Liesl is such a beautiful character, her dreams and hopes are somewhat crushed by her family but still, she stands strong and does everything she can for them. Her brother and sister are her parent's priorities and she just helps them unconditionally without saying a word about it. She is frequently put last so others can have things and she doesn't seem to mind, as long as she has her music.
The Goblin King is a very mysterious character and I found myself constantly wondering who he really is. I believe we could compare him to an onion, he has multiple layers and you never know what you will find in the middle. He is one of my favourite characters ever. The hidden sensibility and the wonder and passion that she represents are visible and amazing.
In life, we can't always do what we want and this story portrays just that. It is heartbreaking and heartwarming at the same time, it is also passionately musical and dreamy. This is a beautiful story that I advise to anyone who is willing to risk and enter a different, dangerous and beautiful world.