Hello my lovely readers! I'm so sorry I've not been posting as often as I usually do but school is hectic and I'm going through some health issues, what means that I haven't got time for anything, not even reading... I think I might go crazy if this keeps up!
I had an idea of a new series of posts where I share with you the books that I have on my Kindle! Las summer I got a Kindle Paperwhite when I was in vacation in Italy since it was so much cheaper there than in Portugal and it really helped me boost my review options, with Netgalley books and Kindle Scout, among others.
I'll share 5 books at the time with you and I haven't read most of them so please keep the comments spoiler free and feel free to suggest new ones!
Firefly Hollow (Firefly Hollow #1) by T.L. Haddix
In 1960, a tragic death in the family calls young Sarah Browning back from college to her Appalachian homestead. Unable to return to school and finish her degree, she finds herself facing a future that isn't what she'd planned. Lost and grieving, she wanders onto her reclusive neighbor's property where she stumbles across the all-too-attractive Owen Campbell, a man hiding secrets she'd only ever thought were legend.
Owen Campbell was raised on the folklore of Eastern Kentucky, tales of men and women with magical abilities from shape-shifting to healing powers. Rejected by those he loves because of his own abilities, he isolates himself from the world. When he meets Sarah, he's faced with the tough decision of whether to let her in or stay hidden away to keep his heart safe.
Please note - this book is NOT a typical paranormal romance. No rage-beast shifters or alpha dogs here. It is, however, at its heart a romance, with a few intimate scenes between the hero and heroine, as well as adult situations dealing with tragedy.
Troll by Ashley C. Harris
At the age of sixteen, Abby is undergoing major household changes. Her mom is getting ready to remarry and her new step-brother is driving her insane. She is just trying to keep herself busy with school and her part-time job when a most deliciously handsome stranger moves to her little seaside town and won't leave her alone.
New arrival Wilhelm is unlike any other student at Abby's school. His emerald eyes and tattooed body don't truly reveal what he really is: a creature emerged from thousands of miles underground, seeking revenge, treasure, and a key that once belonged to an old enemy – a key Abby wears suspended from a chain around her neck. Why she has it is a mystery that Wilhelm will need to solve, and fast, in order to defeat a powerful mortal adversary.
As an attraction between Abby and Wilhelm develops, more creatures like Wilhelm are drawn from beneath the ground to Abby's town; wreaking havoc as they offer Abby's classmates the fulfillment of their deepest desires. Will Abby and her new family survive as a game of magical warfare is unleashed? Her ability to reverse Wilhelm's bargain depends on it.
Fire & Ice (Icefire Trilogy #1) by Patty Jansen
Deep under the City of Glass in the frozen southern land, an age-old machine called the Heart of the City radiates a power which locals call icefire. Most citizens are immune to it, but a few, always born with physical disabilities, can bend it to their will. For fifty years, the ruling Eagle Knights, who fly on the back of giant birds, have killed these Imperfects, fearing the return of the old royal family, who used icefire to cut out people's hearts, turning them into ghostly servitors.
The old king's grandson Tandor only sees the good things icefire brought: power and technology now forgotten while the people of the south live in dire poverty. He's had enough of seeing his fellow kinsfolk slaughtered by ignorant Knights, of Imperfect babies being abandoned on the ice floes to be eaten by wild animals. His grandfather's diary tells him how to increase the beat of the Heart the first step to making the land glorious once more. Arrogant as he is, he sets the machine in motion. All he needs is an army of Imperfect servitors to control the resulting power.
Isandor is Imperfect, an ex-Knight apprentice, betrayed by his best friend and running for his life.
The queen Jevaithi is Imperfect, living like a prisoner amidst leering Knights, surviving only because the common people would rebel if their beloved queen were harmed.
Both are young and desperate and should be grateful that Tandor wants to rescue them from their hopeless situations. Or so he thinks. The youngsters, however, have no inclination to become heartless ghosts, but while they defy Tandor, the Heart beats, and he alone cannot control its power.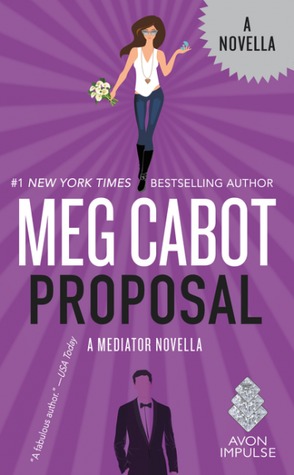 Proposal (The Mediator #6.5) by Meg Cabot
The last place Suze Simon expects to find herself during Valentine's Day is a cemetery. But that's what happens when you're a mediator – cursed with the "gift" of communicating with the dead.
That's how Suze has ended up at the graves of a pair of NCDPs - Non-Compliant Deceased Persons – whose drama didn't end with death. It's Suze's job to make sure they move on—for good.
But the NCDPs aren't the only ones with problems. The reason Suze is spending her Valentine's Day with the undead instead of her boyfriend, Jesse, is because he's having so much trouble adjusting to life after death . . . not surprising, considering the fact that he used to be an NCDP himself, and now his girlfriend busts his former kind for a living, while he tries to cure his kind of what used to ail him.
Can Suze use her mediating skills to propose a mutual resolution, and bring all these young lovers together - including Jesse and herself - especially on the night Saint Valentine declared sacred to romance?
Or will she end up alone—and possibly undead—herself?
Remembrance (Transcend Time Saga #1) by Michelle Madow
Lizzie Davenport has been reincarnated from 1815, England ... but she doesn't realize it until she meets her soul mate from the past and he triggers her memories to gradually return.
When Drew Carmichael transfers into Lizzie's high school, she feels a connection to him, like she knows him. But he wants nothing to do with her. Reaching Drew is more difficult because she has a boyfriend, Jeremy, who has become full of himself after being elected co-captain of the varsity soccer team, and her flirtatious best friend Chelsea starts dating Drew soon after his arrival. So why can't she get him out of her mind?
Lizzie knows she should let go of her fascination with Drew, but fighting fate isn't easy, and she's determined to unravel the mysteries of the past.