Author:
Christina Bauer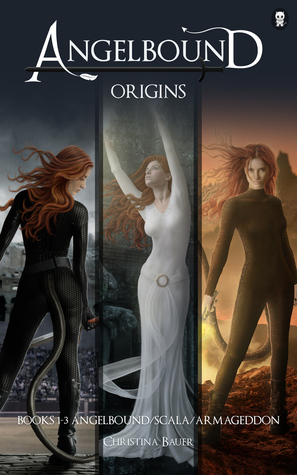 Publisher:
Ink Monster LLC
Publication Date:
July 15th 2015
Source:
ebook (given by Netgalley)
Rate:
Summary:
ANGELBOUND (Book 1) - Myla Lewis is a girl who loves two things: kicking ass and kicking ass. She's not your every day quasi-demon, part-demon and part-human, girl. Myla lives for the days she gets to fight in Purgatory's Arena. That is, until she meets Prince Lincoln, a super-sexy half-human and half-angel demon hunter. But what's a quasi-demon girl to do when she falls for a royal demon killer? With a love with fighting for, Myla's about to shake up the after-realms.
Review:
*The publisher provided this book in exchange for an honest review through NetGalley.*
Myla Lewis lives in Purgatory and she wants to kick ass for a living in Purgatory's Arena. She's a quasi-demon, part-demon and part-human but mostly she's a girl.
One day she meets Prince Lincoln, a charming and sensual half-angel and half-human demon hunter that she is intrigued by. But will she be able to love a royal demon-hunter? Will he love her?
Join Myla while she discovers herself and while she unearths some deeply sealed secrets from her family and her town's past.
This is a series review since I read a bind-up copy of it, so I'll try not to disclose anything that might spoil you while also being faithful to the grandeur of the whole series.
Myla is an obstinate teenager, as many of us are or were, and the only thing she likes to do is fight since she is part of a race that is enslaved and the only thing she learns in school is how to take care of her future masters.
On the opposite side, Prince Lincoln is admired by all and is the successor of his father's very powerful rule. Everybody loves him and he grew up without being stepped on and forgotten about.
It is amazing to see how this two very different persons collide against each other and try to accept the other. Even though they are both fearless warriors they both come from very different worlds and realities.
The writing is beautiful and it's very easy to immerse yourself in the storyline! This is an action-packed series and that's a good thing because you'll love all the events that go on in this fictional universe that are the after-realms and how intricate and complex they really are.
If you love action, love, friendship and family values then this is a great series for you! Even if you think you might not like it please give it a try because it's really with it.