Author:
Dani-Lyn Alexander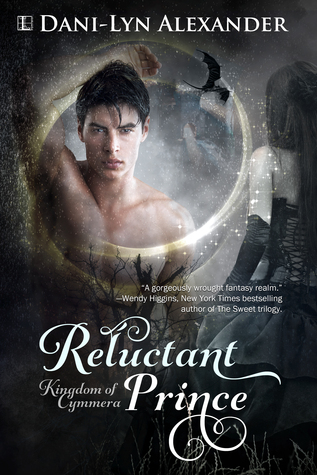 Publisher:
Lyrical Press
Publication Date: 3rd November 2014
Source:
ebook (purchased)
Rate:
Summary:
Seventeen year old Ryleigh Donnovan is certain her life is cursed. Nothing ever goes smoothly, and her first job interview is no exception. An earthquake rocks the building, sending Ryleigh on a frantic search for her younger sister, a search which lands her in the hospital. Terrified they'll push her for answers she can't afford to give, Ryleigh flees with a mysterious stranger.
Jackson Maynard is about to be ordained as a Death Dealer, a warrior for the Kingdom of Cymmera, but first he must pass one more test. When he fails to acquire the human girl the prophet has chosen, he's forced to stand trial for treason. Banished from his realm, he seeks out the girl from the vision, Ryleigh Donnovan, and together they embark on a journey to save his dying kingdom. - Goodreads
Review:
Ryleigh Donnovan is just a seventeen years old girl but she has the weight of the world in her shoulders. Since her grandmother and legal guardian died she has to avoid the social services, waiting for her birthday and trying to find a job so she can keep her sister, Mia, with her.
A tragic earthquake while Ryleigh is on a job interview that terrifies her and sends her on a frantic search for her and later lands her on the hospital leads her to escape with a beautiful stranger.
Jackson Maynard is the son of the king is on his last task in order to be ordained Death Dealer, a warrior of the Kingdom of Cymmera, but he fails on recovering the girl the prophet has chosen. He then has to face a trial for treason.
When he's banished from his realm he decides to seek out the girl from the vision, Ryleigh Donnovan, and together they start a journey to save the dying kingdom of Cymmera.
My first thought about this book is that it is utterly amazing and that it has a very fresh and new concept that I had never crossed paths with before it talks about a realm that coexists with earth but it's not part of it, it talks about technology but there's a world that survives without it, it talks about falling in love but also talks about family love and it even has thrilling adventure times with lots of adrenaline.
The characters are all so deep and worked with that you can really feel them and actually feel like you're part of their world and not just a bystander in their story.
You will fall in love with this book the moment you open it and every chapter is exciting!
If you like love, family, adrenaline, magic, war and mystical creatures all in the same story then this is a story for you!
Source: Tumblr