To those who don't know what a TBR is: a TBR of "to be read" is the books that someone's planning on reading or needs to read.
As you might already guess I'm going to talk a little about all the books I'm planning on reading this summer!
1. My Soul Immortal by Jen Printy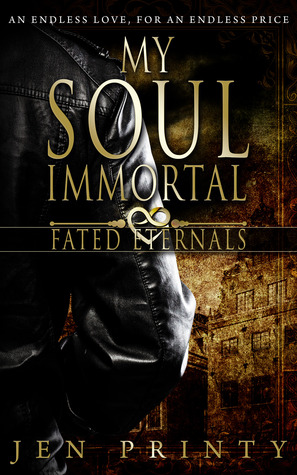 Goodreads
An endless love, for an endless price.
Jack's immortality is exposed when he prevents a liquor store heist, forcing him to flee to protect his secret—a secret not even he understands. But when he meets Leah Winters—a mirror image of his decades-lost love, Lydia—his very soul is laid bare. He begins to question his sanity. Is she real, and if so, what does that mean for Jack and his secret?
Jack's not the only mystery man in town. A stranger named Artagan hints at knowledge Jack is desperate to possess. But can he trust Artagan, or does the dark newcomer harbor deadly secrets of his own?
As Jack's bond with Leah grows, so does the danger to her life. Jack must discover just how much he is willing to risk in order to save the woman he already lost once.
2. The Lament of Sky by Bb Wynter
Goodreads
There once existed a collective of Gods called the Duwaiu. Mortal long ago - now bound together for a thousand years - the Duwaiu swore allegiance to the Vildarii: three faceless entities that governed the spirit worlds, Otherworlds and the Hell plains; ensuring that the great wheel of life continued to turn.
But the second Vildarii, Guardian of the Hell plains, desired that there be ultimate suffering upon the world and drove all the Duwaiu Gods into madness. As consequence for their insanity, the Rhai-Angof - a ferocious female race - were hunted unto extermination and the essence of the Vildarii was crafted into three human men.
Lilyth, the last remnant of the Rhai-Angof, fights to survive against the ruling, tyrannical Vildarii regime. Her journey leads to encounters with William, the only remaining Duwaiu God; Sky, an ethereal being of otherwordly magic; and a philandering sky-pirate named Vergo.
As they progress through their adventure together, Lilyth slowly begins to piece back memories that were stolen by the magic of the Vildarii. Eventually, putting together the puzzle of the regime's evil scheme, it leads to an unforgettable climax, where races and worlds collide.
3. The Secret Keeper by Angela Carling
Goodreads
When Seventeen year old Winter Merrill was compelled to make a bargain with the mysterious Secret Keeper, she knew there were rules. The most important one, the next time you have a secret, you will not be able to tell it….even if you try.
What she didn't know is that her next secret if not told, would destroy her life and the life of Liam, the only boy she ever loved. Can Winter find a way out of the dark bargain that binds her tongue or will her deal with the Secret Keeper bring devastating consequences unimaginable even to her?
5. Fire in Frost (A Crystal Frost Novel) by Alicia Rades
Goodreads
Crystal Frost has spent her whole life believing she's ordinary, and her mother has long held the secret of her heritage. When Crystal begins seeing the ghost of a dead classmate, her life spirals out of control. She's faced with the threat that everyone will find out she's a freak, as if the struggle to figure out her new-found abilities wasn't enough pressure. Crystal has to find some way to save the people who have come to her for help all while trying to keep her abilities a secret. Will she be able to fulfill these overwhelming demands while solving the mystery that is the ghost of Olivia Owen?
6. The Healer (The Healer Series) by C.J. Anaya
Goodreads
Seventeen-year-old Hope longs for a normal teenage life, but with a gift like hers, normal equals healing illnesses and injuries instantly. Keeping a secret like that isn't easy, especially when two handsome, young men move into town and begin unearthing other secrets concerning Hope's future and past, revealing to Hope that her gift may be the fulfillment of a prophecy gone wrong.
7. Never Forgotten by Kelly Risser
Goodreads
One minute Meara Quinn is making plans for the summer before her senior year. The next she finds out that her mother's cancer has returned and they're moving away from the only home she's ever known. Every day becomes a struggle as Meara tries to cope with her mother's illness while being forced to move to another country to live with grandparents who are strangers.
Add weird visions of a father who was absent her entire life and top it all off with one whopping secret that everyone seems bent on keeping from her, and Meara has the perfect ingredients for a major melt down. The only things keeping her from coming unglued are some new friends and Evan—the son of her mother's childhood friend—who seems to know Meara almost better than she knows herself.
Together with Evan and her friends, Meara embarks on a new journey to unlock the secrets that will not only tell Meara who she is, but what she is.
8. Doon by Carie Corp and Lorie Langdon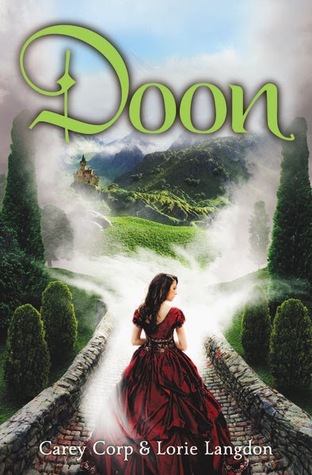 Goodreads
Veronica doesn't think she's going crazy. But why can't anyone else see the mysterious blond boy who keeps popping up wherever she goes? When her best friend, Mackenna, invites her to spend the summer in Scotland, Veronica jumps at the opportunity to leave her complicated life behind for a few months.
But the Scottish countryside holds other plans.
Not only has the imaginary kilted boy followed her to Alloway, she and Mackenna uncover a strange set of rings and a very unnerving letter from Mackenna's great aunt—and when the girls test the instructions Aunt Gracie left behind, they find themselves transported to a land that defies explanation. Doon seems like a real-life fairy tale, complete with one prince who has eyes for Mackenna and another who looks suspiciously like the boy from Veronica's daydreams. But Doon has a dark underbelly as well. The two girls could have everything they've longed for...or they could end up breaking an enchantment and find themselves trapped in a world that has become a nightmare.
9. Angelfall by Susan Ee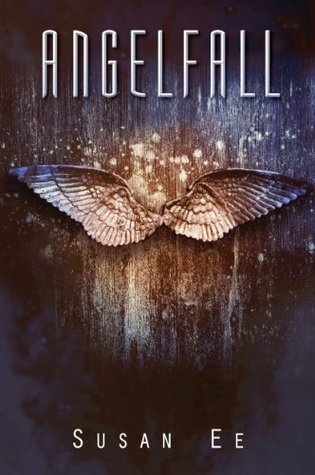 Goodreads
It's been six weeks since angels of the apocalypse descended to demolish the modern world. Street gangs rule the day while fear and superstition rule the night. When warrior angels fly away with a helpless little girl, her seventeen-year-old sister Penryn will do anything to get her back.
Anything, including making a deal with an enemy angel.
Raffe is a warrior who lies broken and wingless on the street. After eons of fighting his own battles, he finds himself being rescued from a desperate situation by a half-starved teenage girl.
Traveling through a dark and twisted Northern California, they have only each other to rely on for survival. Together, they journey toward the angels' stronghold in San Francisco where she'll risk everything to rescue her sister and he'll put himself at the mercy of his greatest enemies for the chance to be made whole again.
10. Die for Me by Amy Plum
Goodreads
In the City of Lights, two star-crossed lovers battle a fate that is destined to tear them apart again and again for eternity.
When Kate Mercier's parents die in a tragic car accident, she leaves her life--and memories--behind to live with her grandparents in Paris. For Kate, the only way to survive her pain is escaping into the world of books and Parisian art. Until she meets Vincent.
Mysterious, charming, and devastatingly handsome, Vincent threatens to melt the ice around Kate's guarded heart with just his smile. As she begins to fall in love with Vincent, Kate discovers that he's a revenant--an undead being whose fate forces him to sacrifice himself over and over again to save the lives of others. Vincent and those like him are bound in a centuries-old war against a group of evil revenants who exist only to murder and betray. Kate soon realizes that if she follows her heart, she may never be safe again.
11. The Wrath and the Dawn by Renne Ahdieh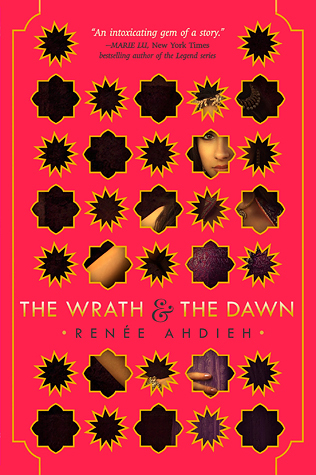 Goodreads
Every dawn brings horror to a different family in a land ruled by a killer. Khalid, the eighteen-year-old Caliph of Khorasan, takes a new bride each night only to have her executed at sunrise. So it is a suspicious surprise when sixteen-year-old Shahrzad volunteers to marry Khalid. But she does so with a clever plan to stay alive and exact revenge on the Caliph for the murder of her best friend and countless other girls. Shazi's wit and will, indeed, get her through to the dawn that no others have seen, but with a catch . . . she's falling in love with the very boy who killed her dearest friend.
She discovers that the murderous boy-king is not all that he seems and neither are the deaths of so many girls. Shazi is determined to uncover the reason for the murders and to break the cycle once and for all.
12. A Court of Thornes and Roses by Sarah J. Maas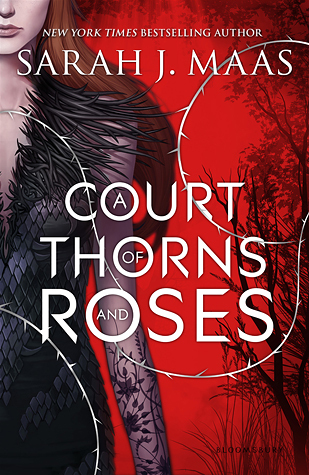 Goodreads
When nineteen-year-old huntress Feyre kills a wolf in the woods, a beast-like creature arrives to demand retribution for it. Dragged to a treacherous magical land she only knows about from legends, Feyre discovers that her captor is not an animal, but Tamlin—one of the lethal, immortal faeries who once ruled their world.
As she dwells on his estate, her feelings for Tamlin transform from icy hostility into a fiery passion that burns through every lie and warning she's been told about the beautiful, dangerous world of the Fae. But an ancient, wicked shadow grows over the faerie lands, and Feyre must find a way to stop it... or doom Tamlin—and his world—forever.
Perfect for fans of Kristin Cashore and George R. R. Martin, this first book in a sexy and action-packed new series is impossible to put down!
13. Runelight by Joanne Harris
The squabbling Norse gods and goddesses of Runemarks are back! And there's a feisty new heroine on the scene: Maggie, a girl the same age as Maddy but brought up a world apart - literally, in World's End, the focus of the Order in which Maddy was raised. Now the Order is destroyed, Chaos is filling the vacuum left behind... and is breaching the everyday world.
A chilling prophecy from the Oracle. A conflict between two girls. And with just twelve days to stave off the Apocalypse, carnage is about to be unleashed . . .
14. The Other Queen by Phillipa Gregory
This dazzling novel from the #1 New York Times bestselling author Philippa Gregory presents a new and unique view of one of history's most intriguing, romantic, and maddening heroines. Biographers often neglect the captive years of Mary, Queen of Scots, who trusted Queen Elizabeth's promise of sanctuary when she fled from rebels in Scotland and then found herself imprisoned as the "guest" of George Talbot, Earl of Shrewsbury, and his indomitable wife, Bess of Hardwick.
The newly married couple welcome the doomed queen into their home, certain that serving as her hosts and jailers will bring them an advantage in the cutthroat world of the Elizabethan court. To their horror, they find that the task will bankrupt them, and as their home becomes the epicenter of intrigue and rebellion against Elizabeth, their loyalty to each other and to their sovereign comes into question. If Mary succeeds in seducing the earl into her own web of treachery and treason, or if the great spymaster William Cecil links them to the growing conspiracy to free Mary from her illegal imprisonment, they will all face the headsman.
Philippa Gregory uses new research and her passion for historical accuracy to place a well-known heroine in a completely new tale full of suspense, passion, and political intrigue. For years, readers have clamored for Gregory to tell Mary's story, and The Other Queen is the result of her determination to present a novel worthy of this extraordinary heroine.