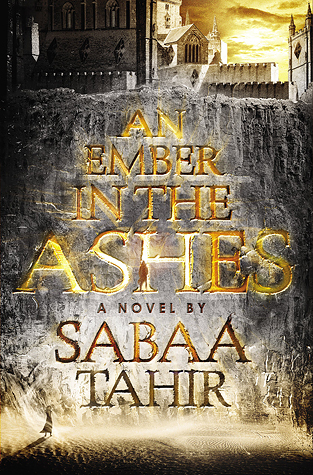 Author:
Sabaa Tahir
Publisher:
Razorbill
Publication Date: 28th April 2015
Source:
ebook
Rate:
Summary:Under the Martial Empire, defiance is met with death. Those who do not vow their blood and bodies to the Emperor risk the execution of their loved ones and the destruction of all they hold dear.
It is in this brutal world, inspired by ancient Rome, that Laia lives with her grandparents and older brother. The family ekes out an existence in the Empire's impoverished backstreets. They do not challenge the Empire. They've seen what happens to those who do.
But when Laia's brother is arrested for treason, Laia is forced to make a decision. In exchange for help from rebels who promise to rescue her brother, she will risk her life to spy for them from within the Empire's greatest military academy.
There, Laia meets Elias, the school's finest soldier—and secretly, its most unwilling. Elias wants only to be free of the tyranny he's being trained to enforce. He and Laia will soon realize that their destinies are intertwined—and that their choices will change the fate of the Empire itself. (via Goodreads)
Review:
This book tells us the story of two breathtaking characthers: Elias and Laia.
Elias is a Mask, a soldier to the Martial Empire and is supposed to be all kinds of inhuman and senseless while Laia is a Scholar girl whose family was slain by the masks and whose only living family member, her brother, is the Empire's prisioner.
When Laia joins forces with the rebels to save her brother and infiltrates in the Empire's greatest military academy to spy she crosses paths with Elias, the best soldier in the whole academy that secretly wants to escape the Empire's tyranny.
Finding friends in the most unexpected places these two have choices to make that can change the whole Empire...
I have to admit this is one of the best books that I've read in a relly long time! The way Sabaa Tahir writes can take you away like the breese takes a dead leaf away.
This world is a crossover between the Roman Empire and the Arabic Empire has a really complex plot with a lot of world building and thrilling adventures.
You will not be able to identify a characther in this book that's not worked with and well developed while serving a specific purpose that contributes to the complexity of this story!
This book has it all: romance, adventure, mythical creatures, power hungry villains and huge amounts of adrenaline!
If you like to get lost in amazing fantasies but also love the thrill of the battlefield with some bloodshed and some love involved then I don't know why you haven't picked this book up yet!
Book Trailer:
Favourite Quotes:
"The field of battle is my temple. I mentally chant a saying my grandfather taught me the day he met me, when I was six. He insists it sharpens the mind the way a whetstone sharpens a blade. The swordpoint is my priest. The dance of death is my prayer. The killing blow is my release."
― Sabaa Tahir, An Ember in the Ashes
"Once, I'd have wanted that. I'd have wanted someone to tell me what to do, to fix everything. Once, I'd have wanted to be saved."
― Sabaa Tahir, An Ember in the Ashes
"Life is made of so many moments that mean nothing. Then one day, a single moment comes along to define every second that comes after. Such moments are tests of courage, of strength."
― Sabaa Tahir, An Ember in the Ashes