Author:
Kerri Maniscalco
Publisher:
Jimmy Patterson
Publication Date:
September 20th 2016
Source:
Paperback Book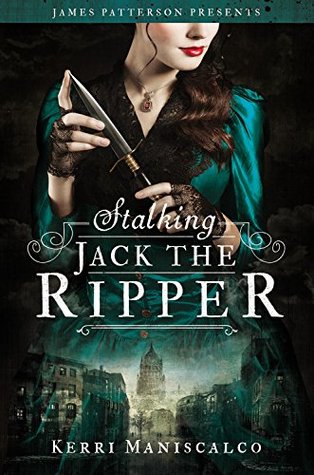 Rate:

Summary:
Seventeen-year-old Audrey Rose Wadsworth was born a lord's daughter, with a life of wealth and privilege stretched out before her. But between the social teas and silk dress fittings, she leads a forbidden secret life.
Against her stern father's wishes and society's expectations, Audrey often slips away to her uncle's laboratory to study the gruesome practice of forensic medicine. When her work on a string of savagely killed corpses drags Audrey into the investigation of a serial murderer, her search for answers brings her close to her own sheltered world.
The story's shocking twists and turns, augmented with real, sinister period photos, will make this dazzling, #1 New York Times bestselling debut from author Kerri Maniscalco impossible to forget.
Review:
Audrey Rose Wadsworth could be just another high society lady, caring only about tea, parties and gossip. Instead, she prefers the study of the human body while performing autopsies under the tutelage of her uncle. Unfortunately, this is not something that Victorian London society, or even her father, accept and she has to keep her love for forensics hidden from the ones closest to her.
One day she finds herself working with her uncle on a string of murder victims that will come to be known as the victims of Jack the Ripper. With everyone on their nerves end and frightened, a lot of fingers are pointed around. In order to protect her uncle from the police, Audrey takes the investigation into her own hands, assisted by her uncle's other pupil, Thomas Cresswell. Together they vow to unveil the killer that predates on society's rejects.
The premise of this book is interesting on its own: a seventeen-year-old high society girl that cuts open the bodies of the dead and investigates the cause of their deaths. This goes against any retelling of the Jack the Ripper case I have ever known, either those of fiction or the attempts to unravel the mystery (and there are a lot of them).
Because of this detail, the book ends up being built upon a very strong character and grounding every other character through her. Audrey Rose Wadsworth is not like other girls, she aims for more and she knows she is capable of more. Even though society does not agree with her ideas and her hopes for the future, she finds in her uncle and Thomas Cresswell someone who values her intelligence and considers her a sort of equal. It is very interesting to observe how an insufferable know it all like Thomas Cresswell finds himself unarmed against Audrey's exoticness. Thomas has to learn how to deal with her without following the rules he was always thaught, still, he remains a mystery to the reader. There is something lurking behind his eyes and the reader does not know quite what it is.
The author was able to write an interesting and engaging crime story with history and romance and all the gritty details while also exploring important themes. These themes are things like the Victorian incursions into science and the woman's place in Victorian society. There is always a clear line of where the society these characters live in establishes its boundaries (which are meant to be broken). There is also the fact that personality and respect are attributed to the Ripper's victims. Audrey cares for them, they are not mere objects to be exploited as grim material for the story.
This is, overall a great story. I feel that the series will only get better because the characters become more tridimensional with the progression of the story. I also believe that the following books will explore even more complex characters an themes. If you are in some kind of a book slump this is a great book to get you back into reading or even to read between two big heftier books!